With our Cirrus SR-22 GTS luxury 1+4 seater airplane, which has a range of 2000km, that allows you to reach nearly all cities in Europe.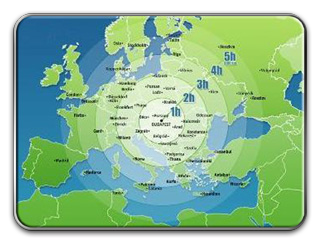 If you would like to:
have a schedule adapted to you, not forced to adapt yourself to the  schedule;
be able to land on almost any airport (even where the airlines cannot go);
have your travel cultivated, fast and discrete;
never miss a flight, as the flight awaits only you, then you will be satisfied with our service.
Our experienced pilots take you rapidly, and first and foremost safely where you just want to fly.
Do not forget: if you travel with us, you just have to tell the place and time of departure and arrival, all the rest is done by our company for you.
Terms and conditions
About the fares of the aircraft and the conditions of our service, please click here to see our prices.
Quotation
Please contact us if you are interested in our service.
Your quote will be sent soon.
---
"Do you remember a time, when flying was efficient and productive…?"
"Do you remember a time, when flying was fun, even glamorous…?"
---